Hotel marketing
Google Hotel Ads
Most travellers start planning their trips on the internet using various search engines. But one of the most popular search engines has always been and remains Google, which records around 4.5 billion searches per day, representing approximately 77% of all searches worldwide. 
The importance of Google in the world of travel
Among these searches, there are also many queries related to travel and accommodation. When a user searches for accommodation, Google displays the results with the option to use various filters such as arrival date, number of guests, price range or rating. Users can browse available hotels including detailed information, photos, guest reviews and booking options. If they decide to book, they are redirected to the hotel's website or the websites of various OTA (Online Travel Agency) portals.
In many cases, the popular Booking.com OTA channel is displayed in the first positions in Google search. This is for a variety of reasons, which may be price, i.e. parity, or non-price reasons. But how do you guarantee that your hotel website will be ranked first? Also thanks to the paid Google Hotel Ads service.
How Google Hotel Ads works and how it connects to Google My Business
The main goal of Google Hotel Ads is to enable hotels to effectively communicate with potential guests searching for accommodation through Google Search or Google Maps.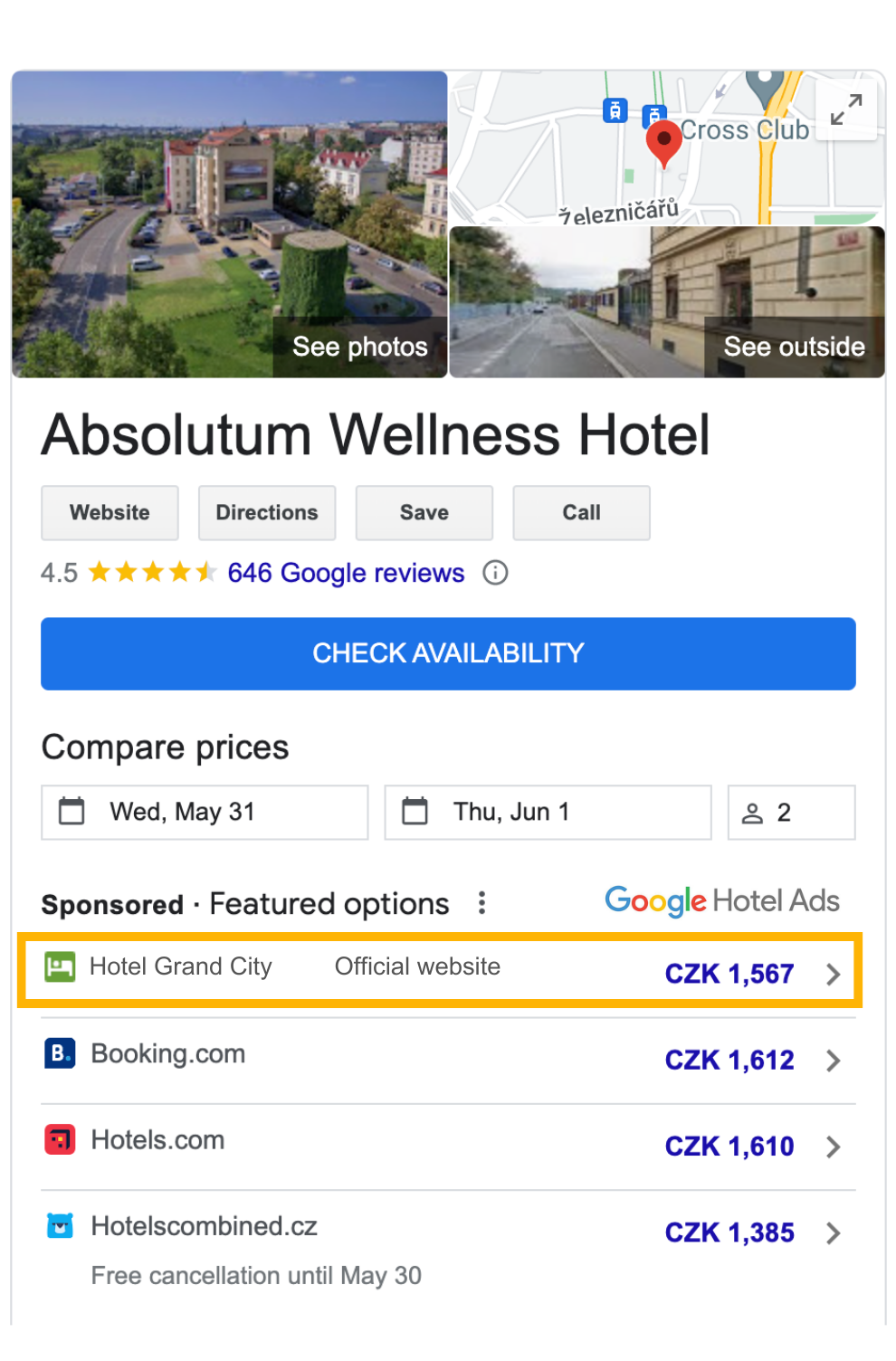 The service works on an auction model similar to Google Ads. The hotel operator sets its bid for a position in the search results based on various factors such as price per night, percentage of room rate or country of search.
Google Hotel Ads works closely with other tools and services such as Google My Business and review management, and it's important that all of these tools are properly integrated. Google My Business is a free service that allows hotels to collect and display all their traffic information. This includes address, phone numbers, location, photos, guest reviews, services offered and more. Updating and maintaining this information is key to improving a hotel's visibility in Google search results. 
The importance of correct price setting and price parity
Proper pricing is another important aspect that affects the success of a Google Hotel Ads campaign. Price parity, i.e. price comparability with other sales and booking channels, is a key factor that can determine whether guests choose to book with your hotel or your competitors. Guests are often looking for the lowest price available, so it is important to monitor prices carefully and ensure they are competitive.
You can use Channel Manager to manage pricing and availability on different sales channels to maintain price parity and optimise the performance of your advertising campaigns. Monitoring and adjusting your pricing strategy are key elements to succeeding with Google Hotel Ads and ensuring effective use of this advertising service.
How to get started with Google Hotel Ads
As an independent hotel, you'll need a connectivity partner to help you set up and manage your Google Hotel Ads campaigns. As a proud Google partner, Bookolo System can automatically feed your rates and availability into Google Hotel Center in real-time, increasing your visibility and direct bookings. We can help you activate and manage your campaigns in both Google Ads and Google Hotel Ads.
Google Free Booking Link
If you don't link your hotel to the meta search, you're missing out on direct bookings at the expense of the OTA portals. If, for some reason, using Google Hotel Ads is not an option for you, we recommend at least using Google's Free Booking Link to increase your direct bookings at a lower cost.
If you are interested in setting up your hotel in Google Hotel Ads or Google Free Booking Link search, please contact our technical support team.
Next article
Google introduces a revolutionary new feature: Google Analytics 4